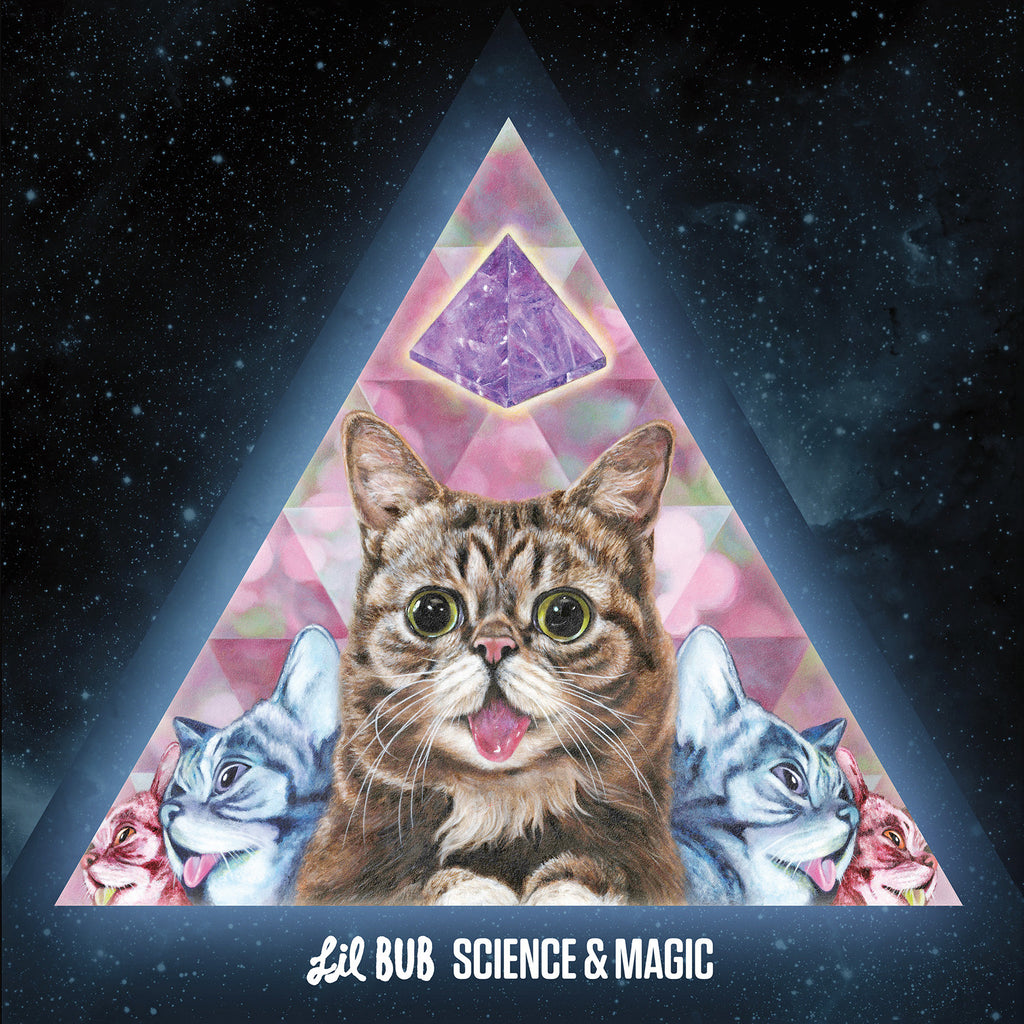 Lil BUB - Science & Magic CD
Lil BUB's debut album, Science & Magic is finally available on CD again, in limited quantities - these are the last 10 copies.
For years, BUB fans have been asking about the magical music used in BUB videos, and begged for it to be available on an actual album. Well, now it is! It is being released by Joyful Noise Recordings, a label started by my good friend Karl, who has graciously released the music of my own bands since 2006. Joyful Noise is also the same company that lovingly packs and ships all of the BUB STUFF ordered on this website. As for the music itself, it was originally commissioned by me (BUB's dude), and was composed by my close friend, bandmate, and official bubbysitter, Matt Tobey. But he didn't write this music alone, he was guided, aided, and inspired by BUB herself. It's a bit hard to explain, so we'll let  our dear friend, Andrew W.K. tell you all about it:
What you (will eventually) hold in your hands is the first ever collection of songs officially made by Lil BUB. That's right. This is music made by a magical space cat. How is that possible? Allow me to explain...
First of all, it should be understood that this album is a genuine musical experience. Also, it should be understood that this is not a novelty item or a cheap and disillusioning gimmick. This is a bonafied and musically gratifying concept album, which entirely emerged from the soul and spirit of Lil BUB herself. How do I know this? Because BUB told me so.
My name is Andrew W.K. and I have had the privilege of working with BUB and making music with BUB and even holding BUB in my arms. Not only is she the softest creature I have ever encountered, she is also the most musically and compassionately gifted. The songs on this album are her vision. They are by her, about her, and are her. Listening to these songs is the sonic equivalent to holding Lil BUB in your own arms.
It may seem impossible that a cat could compose an entire album of carefully crafted instrumental music, but BUB is not simply "a cat". She came from the deep unknown, on an intergalactic mission to help the people and animals of earth with her magic, talents, and otherworldly wisdom. I can attest to her power - the time I spent with her absolutely made me a better person. 
The songs on this album are the soundtrack to BUB's universal adventure, and a soundtrack to the universe itself. You'll feel transported by the music's stimulating spirit, and taken to places beyond your imagination's limits, all the while experiencing the sonic aura of BUB's loving and compassionate presence.
BUB is more than just a "muse"; she wrote this music and used the musicians on this album (BUB's dude, Mike, and his close friend Matt, who is also the official bubbysitter), as her creative vessels to get the music from inside of her spirit and into your mind. If it weren't for BUB, this music would not exist. 
The cover art is a painting from another long-time friend and BUB-lover, Johannah O'Donnell. The LP labels are by another BUB-lover, Peter Carrington. The picture disc and CD art is by yet another friend and BUB-lover, Airelav. The layout and design is by another long-time friend and BUB-lover, Aaron Tanner. The free 18"x 24" theatrical poster that comes with any record features the art of another friend and BUB-lover, Casey Weldon. In fact, every single part of this record, from the art, to the musicians, to the manufacturing, to the packing and shipping, to the layout, to the promotion - is done by our close friends and fellow BUB-lovers.
-----
A portion of all proceeds benefit 
Lil BUB's Big FUND
 for special needs pets, focusing on animals who are the most difficult to adopt, the most expensive to care for, and who are at a high risk of euthanasia.
------------------------------------------------------------------
Your order will be carefully shipped and packed by BUB's good friends right here in Bloomington, IN. They love BUB as much as you do, and work very hard to make sure everything is packed with care and shipped in a timely manner. Your order should ship within 3 business days of being placed, but will typically ship within 24 hours so long as we aren't experiencing an unusually large volume of orders. You will receive an order confirmation email once the order is placed, followed by a shipping confirmation email with tracking info when it ships.
Yes, BUB ships worldwide! To get a shipping estimate, simply add the items you want to your cart, proceed to checkout, and then use the shipping calculator located on the lower left of the screen, or you can also click the checkout button and enter your full address to see your shipping options and associated costs.
Some of our shirts are made to order and will ship directly from the manufacturer to your door (separately from some of our other items). Shipping cost (to anywhere in the world!) is already included in the cost of these items.
ATTENTION INTERNATIONAL CUSTOMERS: You may be required to pay customs duties/VAT with your government. 
For any questions, please email us at thebubstore@lilbub.com
---
Share this Product
---
More from this collection